Below are some helpful links for services and resources in our community. If you are looking for assistance with something special, contact us and we'll try to help you out! Our office hours are 9-1 Monday through Friday.

Meals on Wheels
Meals on Wheels helps our senior neighbors live healthier, more nourished lives in their own homes by delivering food, compassion, and care.
Call our office at (603) 473-8324 for more information.
---
The Wakefield Food Pantry provides food to individuals and families in need from Wakefield, Brookfield, Middleton, Milton, and Effingham, New Hampshire, and Newfield, Maine.
Learn more: https://www.wakefieldnhfoodpantry.com/
---
The Shepherd Program
The Shepherd Program provides people in the Wakefield/Brookfield area with transportation to medical appointments when they, because of a medical or physical condition, are unable to drive themselves and have no other means of transportation. This program is sponsored by the First Congregational Church of Wakefield. There is no charge.
For more information call the church office at (603) 522-3189.
---
Wakefield Welfare Department
Amber Marcoux is Wakefield's Welfare Administrator. She is available to help residents locate private and public assistance, including financial, social, behavioral, family, and health-related services.
Contact Amber Marcoux at (603) 522-6970.
---
The municipal website for the Town of Wakefield, New Hampshire.
View the website: https://www.wakefieldnh.com
---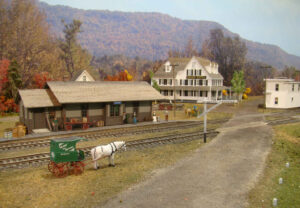 The Wakefield Heritage Commission works to preserve and restore elements of the community that reflect the historic importance of Wakefield in transportation, manufacturing, and farming. They maintain the Heritage Park Railroad Museum, East Wakefield School, Heritage Centre of Wakefield/Lovell Union Grange, and the Spinney Meeting House.
Learn more at http://www.historicwakefieldnh.com
(Pictured here is a scale model of Union Station in 1909, with our very own Union Hotel in the background! This incredible recreation of the B&M Railroad can be found at the Heritage Park Railroad Museum.) 
---
The Friends of the Wakefield Libraries support both of Wakefield's libraries—the Gafney Library and the Wakefield Public Library. Together, they share their enthusiasm for books and work to serve the needs of the libraries, often by helping raise much needed funds.
The Friends meet at 12:00 on the second Wednesday of every month. Except for July and August, they meet in the back room of Poor People's Pub to enjoy lunch while going over library business.
Learn more or join the Friends: https://fowlwakefieldnh.wixsite.com/website
---
Founded in 1938, the Wakefield-Brookfield Historical Society works to collect, preserve and interpret of historical artifacts pertaining to the history of the communities of Wakefield and Brookfield, New Hampshire and to preserve the buildings and grounds under their care, including the 1858 "Little Red School House" and the Freeman Pike Cobbler Shop.
Members and the public meet on the second Tuesday of the month, May through October, for a presentation on a historical topic, a business meeting, and socializing.
Learn more: https://www.wakefieldbrookfieldhistoricalsociety.org/
---
The Wakefield Bearded Wonders
The Bearded Wonders are always looking for new members! Named after their tradition of growing beards in September and being shorn in May (The Shearing of the Bearded Wonders is a part of every year's WakeField Pride Day), this group gathers monthly at the Poor People's Pub to socialize and think of clever new ways to raise money.
Every year they hold Wakefield's Greatest Variety Show at the Opera House, a huge community event and fundraiser. All proceeds of their fundraising efforts benefit Southern Carroll County Hospice.